Digital Signage and Digital Screens for
Replace your traditional menu with an affordable effective Digital Menu board. In this hugely competitive business use your menu board to be more informative, creative and engaging. Sell and upsell your range of products with strong enticing visual displays.
Connecting with your customers or members is a vital part of any marketing plan. Keeping them informed and up to date with regard to all your products and services is considered essential to the success of your business. Then use Digital Signage.
Increasingly public libraries are using digital signage solution to improve and enhance their method of connecting with their users. Libraries nowadays offer such a wide range of services that it is so important to communicate effectively.
Digital Signage Solutions
Digital signage solutions for effective, real-time communication.
In fast-changing times, it is essential that your customers have the right information. Whether you are running a supermarket, a bank, a filling station or a library, this is a great way of ensuring your messages are always up to date.
At All Vision Media, we offer a digital screen-based service that is an efficient and cost-effective way to control your communications.
Digital advertising for businesses
Digital signage has a lot of business benefits:
Immediate communication – such as specials on digital menu boards in cafés and takeaways
Multi-purpose – you can use it for advertising, information, special offers and simply to entertain a queue
Cost-effective - cuts down on the costs of printed material
Environmentally friendly – no need to keep changing and binning those paper menus and flyers
Efficient – a quick and instant way of updating your messages, including multi-sites.
Digital signage for organisations
We work with a range of organisations, including local government agencies , supermarkets, filling stations, credit unions , local libraries and many more. Digital display screens enable excellent in- house communication within large teams, and also helps organisations share information with their customers.
A library is an excellent example of how digital signage can be used to communicate information to both users and staff.
We also work with credit unions across Ireland, advertising their services and ensuring that the top-line financial information they provide is timely and accurate.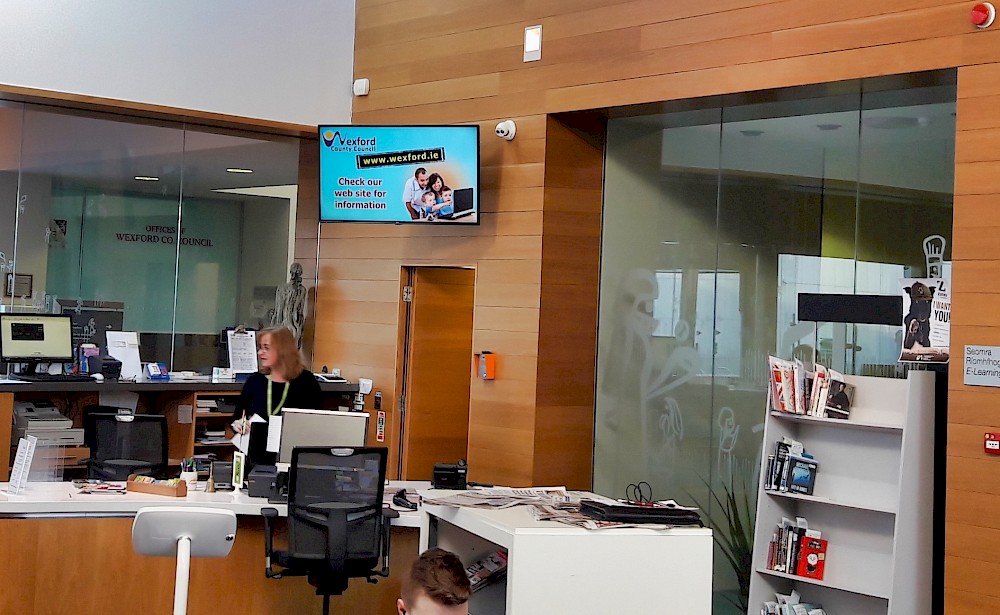 A wide choice of display screens
We have a great choice of digital display screens, backed up by robust digital signage software Our screens are high-res and use the latest high-definition technology, ensuring they can be read by the largest possible number of users.
Whether you're after a small digital menu board for your coffee shop, or need to make a visual splash for a new product launch, we can provide you with the right size screen. We also have digital displays suitable for outdoor and mobile use.
More than words
You can have more than content on your digital advert. Our graphics team will work with you to create an eye-catching ad – it can even be animated. We can offer static, animated or video content – please talk to us to discuss your requirements.
Designed and installed by experts
Our intuitive software empowers you to be the user – you are in control of your own messaging, ensuring that it's updated in real time.
That doesn't mean you are on your own. We'll install and set up your system. We're then on hand to provide you with a full content management, scheduling and graphic design service.
Effective communication couldn't be easier.