Digital Menu Boards
Combine your menu with a powerful marketing tool, by installing a digital menu board.
We supply digital menu boards to cafes, takeaways coffee shops, restaurants and canteens across the country, including businesses with multiple outlets. Quite often, the appeal is practical – the operator wants an easy and effective way to keep the menu up to date. No more writing the day's specials on the window with a pen, or printing out costly paper menus.
However, then the manager starts to see the other business benefits. You can advertise specials and promotions. You can have mouth-watering pictures of your best dishes to make customers feel hungry. As well as a menu, your display screen becomes a marketing tool.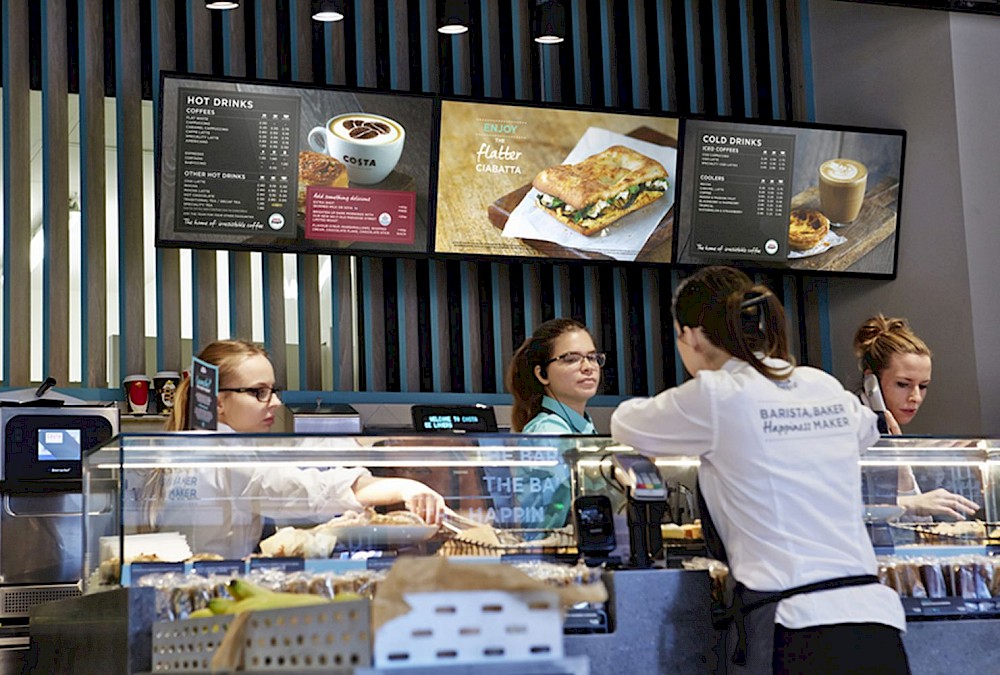 The benefits of digital menu boards in takeaways and coffee shops
We work with café owners and restaurateurs to make sure their new menu display is perfect for their establishment. Our designers can work with existing branding, and we'll also help create a content schedule.
There are so many ways that a digital menu board can benefit your coffee shop or takeaway. You can:
Change what is on the menu, and schedule in menu changes during the day – no need to rewrite the board when breakfast becomes lunch!
Quickly update prices and availability
Upsell – they came in for a coffee, but can't resist your picture of a cake...
Advertise specials and meal deals
Cut down on printed menus, saving costs and helping your business be green
Have a clear menu that's easy to see and read
If you run multiple establishments or have a large outlet that needs more than one menu, you can network the screens, updating everywhere at once
It grabs attention, and makes sure the customer knows what is on offer. It is so much easier for your front-of-house staff – they do not have to make the changes themselves, or explain to customers that something is off the menu.
A choice of digital menu screens for coffee shops and takeaways
We have a choice of sharp LCD screens, all backlit with LED for extra clarity. Our screens do not have any external buttons, so are tamper-proof. They come in a range of sizes to suit your establishment, and can be used in landscape or portrait mode. Screens have a viewing angle of 178 degrees to make sure your customers can read the screen wherever they are standing
We can offer our graphic design service, and work with our expert team to create something totally unique and eye-catching.
Managing your digital menu
Thanks to our networked Android media players, menus can be updated from anywhere in the world (or the kitchen). Save time and printing by simply we can programme in your changes and update them as required - a real-time menu update.
If you would like to know more about how a digital menu board could help your café or takeaway, please get in touch with us at All Vision Media. We work with catering businesses across Ireland, saving them time and money, and helping them connect with their customers.